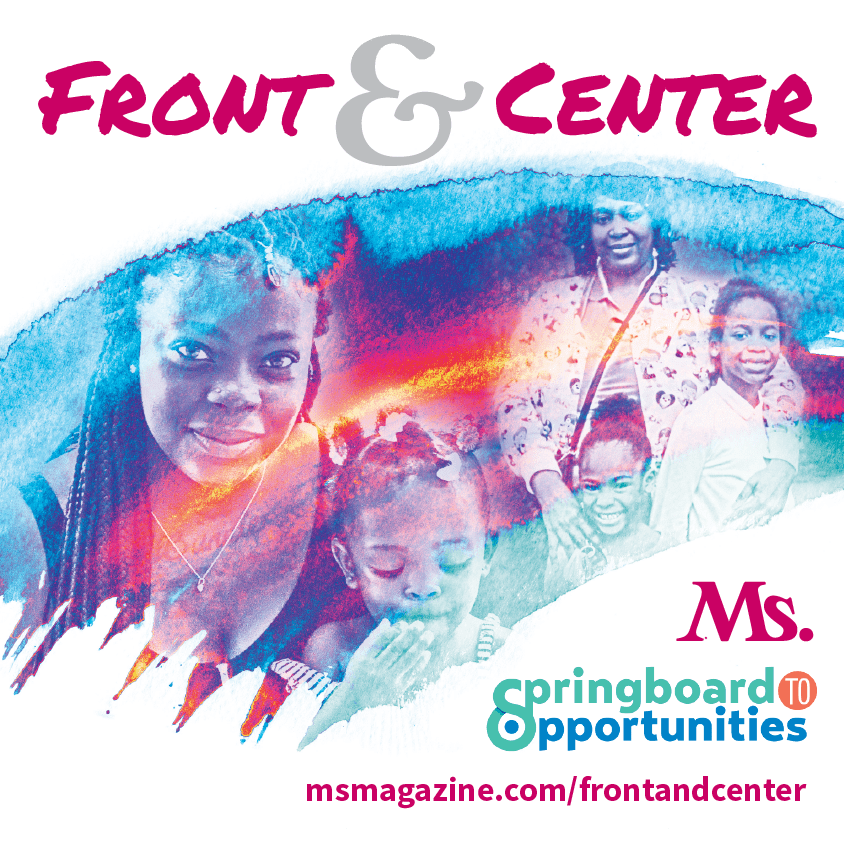 Over the last few months, you've been hearing us say that we are working to change the narrative by changing the narrator. We have always known that low-income families themselves are the ones who should be telling their own stories instead of being mediated through gate keepers or thought leaders or even our staff. We had already started our commitment to that work this year with our first storytelling night with Melissa Harris-Perry, the establishment of our Springboard Storytelling Lab, and one of our Magnolia Mother's Trust moms, Brenita Burns, had her very own Op-Ed published just last week in Spotlight on Poverty and Opportunity.
And today, we're thrilled to announce that we are partnering with Ms. Magazine to launch a series of Op-Eds entitled Front and Center that will feature the voices and stories of the women of the Magnolia Mother's Trust. The published pieces will not solely be about guaranteed income, but will be first-person accounts of Black women living in extreme poverty sharing the reality of their daily lives, their dreams, and their struggles. It will be a national platform for their stories and experiences to be heard and a way to ensure that their voices, as the name suggests, are kept front and center.
The Magnolia Mother's Trust has always been more than a guaranteed income project set up to prove that cash works because frankly, we already knew that. The Magnolia Mother's Trust is working to center the voices of those affected most by the paternalistic and punitive public policies. As we move into this next year, we know that some of the most important policy debates, particularly as it relates to the social safety net, are going to be happening. Too often, those debates are shaped by abstract ideas and false narratives. This project is a chance to ground new narratives in trust, dignity, and the actual stories and experiences of Black mothers.
I'm purposefully keeping my letter short today, because I hope you'll spend some time reading the introductory Front and Center column from myself and Kathy Spiller, and get ready for the first mother's piece, written by Tia Cunningham, a Magnolia Mother's Trust participant from our very first cohort, that will be released tomorrow! And make sure you're following us on social media to be the first to see new features as they come out twice every month for the next year. We promise these are stories you want and need to hear!