We have some big announcements today – our groundbreaking program, the Magnolia Mother's Trust, is launching a new cohort with at least 100 moms! This makes our program the longest-running guaranteed income program in the United States since the late '60s, and it is still the only guaranteed income program in the world to focus exclusively on Black women. Beginning in April, these families will receive $1,000 a month for one year. Results from our latest round, which occurred entirely during the pandemic, show the power of cash to improve lives quickly. Moms who received guaranteed income were 40% less likely to need to borrow money, and their children were 20% more likely to perform above grade level. While the results are important to track, we already know that cash helps people living in extreme poverty. In launching our third round, we are moving beyond "proving" and instead to "moving" – we are building a movement that is centered on dignity and deservedness for all, starting with Black women.
We will do this through doubling down on our commitment to center the lives of those we serve. The heart of Springboard's work has always been about stories. Our organization started by knocking on doors, sitting on people's couches, and hearing their stories. Those stories formed the basis of our programs, our staffing structure, and all of our work. Those stories were the origin of our guaranteed income initiative, The Magnolia Mother's Trust, and became the driving force of our policy publications, like Becoming Visible and Centering the Margins.
But story does not just inform our work; story informs everything. It is the stories that we believe about other people that influence our choices and decision making, both as individuals and as a society. It is the stories we are told about low-income families that inform policy and create the rules and stipulations around programs, like our social safety net system. But far too often, those stories are based on false narratives and stereotypes rather than reality.
We believe is so important to recognize not only whose stories we are hearing, but who is the storyteller. We have said over and over that no one is more equipped to tell the stories of low-income families than families themselves. Families are the true experts on their own lives and as we look for ways to repair our broken welfare system, particularly in light of the devastating effects of the COVID-19 pandemic, we are desperately in need of their wisdom. The power of their words was on display last week, as part of an intimate evening of storytelling co-hosted by journalist and author Melissa Harris-Perry. Melissa and I were honored to have four Magnolia mothers share their experiences with us, including their hopes and dreams. There was a common thread throughout, a desire to be heard beyond just one community or one event.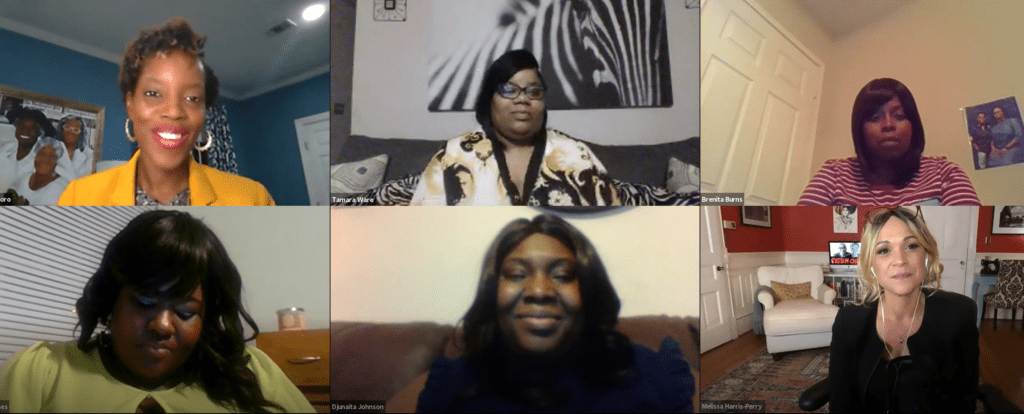 That's why we are so excited to announce the launch of a new Storytelling Lab in partnership with FRESH Speakers! In the coming year, we will be partnering with writers and communication experts to lead courses that will prepare to Springboard residents to share their stories on a broader scale and with a larger audience. The lab will support residents as they create both written stories that can be published as op-eds and craft oral stories that will be a part of a storytelling events, town halls, or policy conferences.
We know that elevating the stories of our families is vital to creating inclusive policy and practices that not only honor families' experiences, but actually have the power to move the needle forward on breaking cycles of poverty and creating a more just and equitable society for all people. While many of our residents are used to be cut off or shut out of the conversation, it is our hope that this Storytelling Lab will equip them with both the skills and confidence, as well as the belief that their stories are exactly what is needed in our world today.
As our country moves into a new chapter together, we have an opportunity to hear and write new stories, and we intend to make every effort to ensure our families' stories are a part of that. We cannot wait to start sharing them with all of you soon.