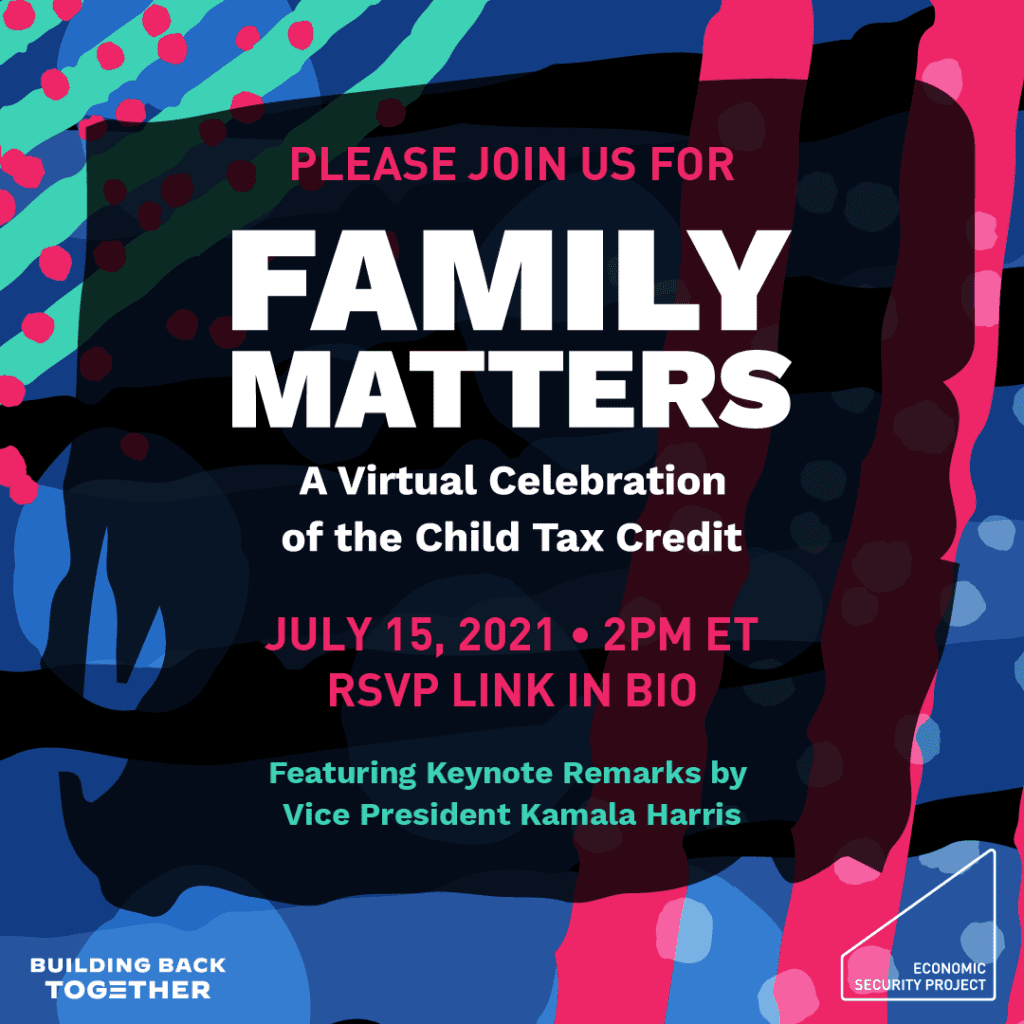 Over the past few months, we've been sharing our excitement about the newly expanded Child Tax Credit. Starting this Thursday, July 15th, families with children will receive regular, monthly payments that can be used as they see fit. Child care, groceries, rent, bill — all these expenses add up fast for families, especially those in low-wage jobs and with limited incomes like the families we work with each day. The Child Tax Credit (CTC) not only offers support and relief, but also isn't tied to work requirements or limiting vouchers that have historically harmed, rather than helped, low-income families move out of poverty.
We know from our experience with The Magnolia Mother's Trust that cash works and can provide families with the means necessary to meet their basic needs, care for their families, and begin to work toward their goals. That's why we've been doing all we can to make sure our families are prepared for the CTC to begin! Our staff has been in communities, knocking on doors, and providing information to families about what these payments are and when they can expect them. Additionally, they've been helping families who might not have filed taxes recently due to disability or unemployment get registered in the IRS system.
But unfortunately, even some of the best intended policies can still leave out the voices of low-income families or fail to recognize their potential to further inequities. That's why we have been especially excited to work alongside national organizations, such as Community Change, to uplift the voices of our families and make sure they are being heard ahead of the July 15th rollout. Their team has shared the stories and experiences our families have had with the user portal and generally understanding the CTC directly with the White House, helping the administration refine the portal and adjust their fact sheets to meet the needs of all families and ensure payments are able to reach the families who need them the most.
It's also why we are proud to co-sponsor alongside 30 other organizations, Family Matters: A Virtual Celebration of the Child Tax Credit on July 15th at 1 p.m. CT/2 p.m. ET, featuring keynote remarks by Vice President Kamala Harris! The celebration, co-hosted by the Economic Security Project and Building Back Together, will be emceed live by Dorian Warren and Melissa Harris Perry.
The celebration, in an effort to maximize awareness and show how transformative the Child Tax Credit is, will feature parents and families from around America and includes special appearances by: Senator Elizabeth Warren, Senator Raphael Warnock, Congresswoman Barbara Lee, Congresswoman Rosa DeLauro, Robert Griffin III, Reverend William Barber II, Ai-jen Poo, Rashad Robinson, Sara Nelson, Kristin Rowe-Finkbeiner, Natalie Foster, Addisu Demissie, and more.
Family Matters will stream live on Facebook.com/EconomicSecProj and at markham.live/childtaxcredit starting at 1 p.m. CT/2 p.m. ET on July 15th and you can RSVP here: https://p2a.co/n9crzFJ
We truly believe the Child Tax Credit provides an opportunity to restructure the social safety net in our country in a way that centers the needs of families and recognizes that families themselves know better than anyone else what is is that they need to thrive. We look forward to sharing the stories of the impact the Child Tax Credit will have on our families, and we hope you'll join us in celebrating this momentous policy moment and help spread the word about it in your own community!